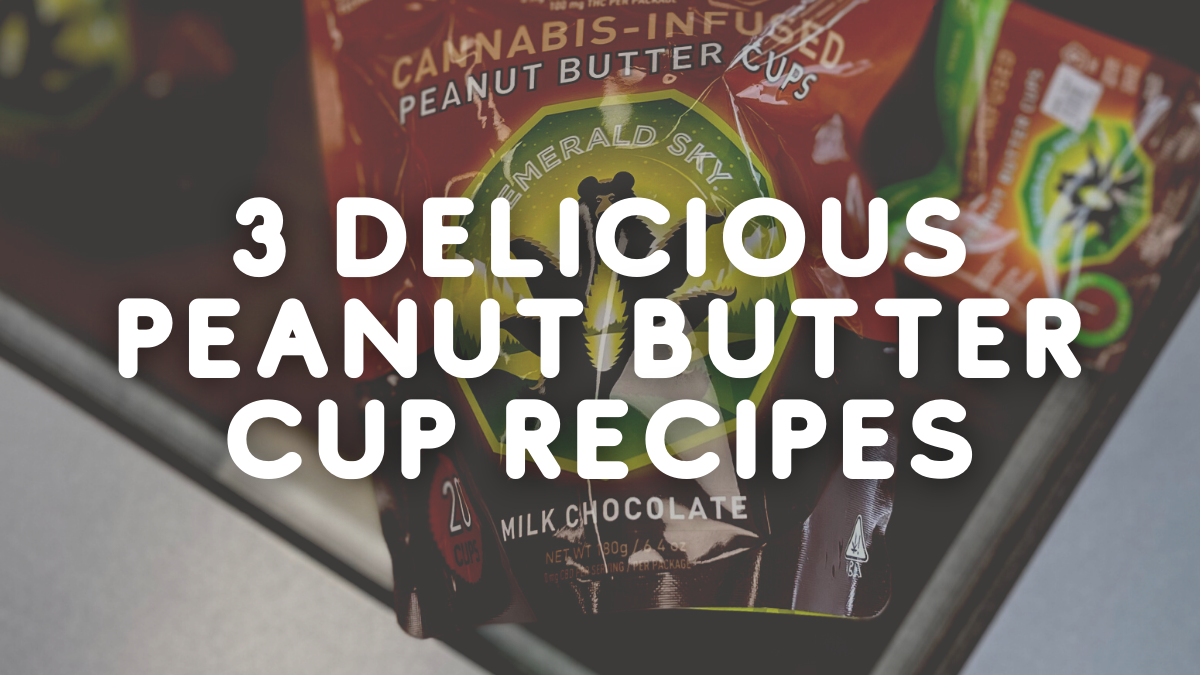 21 Jun

3 Delicious Peanut Butter Cup Recipes With Emerald Sky Edibles

If you've been with us for a while, you know that we are HUGE fans of Emerald Sky Edibles here at East of Eden. If you haven't checked them out yet, let us tell you about them! They have a HUGE selection of cannabis infused products, and they're all made with 100% natural ingredients.

In this post, we're going to share three delicious recipes that are perfect for any season.
1. Easy Peanut Butter Cup Filled Cupcakes
Makes: 12 cupcakes
Ingredients:
1 stick of butter, melted
3 eggs
1 cup whole milk
1 bag vanilla cake mix
24 Emerald Sky Peanut Butter Cups (save half aside for topping)
1 container vanilla frosting (or frosting of your choice)
Instructions:
Melt butter and set aside.

Crack eggs into bowl – bonus points if you make it a face!

Combine butter with eggs.

Add milk.

Whisk wet ingredients well.

Add cake mix and stir.

Make sure to get all the lumps of flour out.

Scoop batter into cupcake pan. Fill each cupcake liner approximately halfway to the top.

Lightly press one Emerald Sky Peanut Butter Cup into each cupcake.

Optional: wait until the cupcakes are almost cooked (approximately 12 minutes) and insert Peanut Butter Cup for non-melted Cup.

Bake in the oven for 15-18 minutes or until toothpick inserted in center comes out clean.

Let cool for at least 20 minutes.
Top with frosting.

Dip frosted cupcake into remaining crumbled Peanut Butter Cups.
2. Peanut Butter Cup Cookies
Prep Time: 20 minutes
Additional Time: 10 minutes
Total Time: 30 minutes
Ingredients:
36 Peanut Butter Cups
½ Cup Unsalted Butter, Softened
½ Cup Granulated Sugar
½ Cup Packed Brown Sugar
½ Cup Creamy Peanut Butter
1 Large Egg (Room Temp)
1 Tsp Vanilla Extract
1 Tbs Milk
½ Tsp Salt
1 Tsp Baking Soda
1 ¾ Cups All-Purpose Flour
Instructions:
Preheat oven to 350° and lightly grease mini muffin tins.

Place unwrapped peanut butter cups on a tray or plate and put in the freezer until ready to use.

Using a large bowl and electric mixer, cream butter and sugars and peanut butter until fluffy.

Beat in egg, vanilla, milk until well incorporated. Add salt and baking soda and continue beating, then gradually add flour and mix until just combined.

Using a 1 tablespoon cookie scoop, drop cookie dough balls into prepared mini muffin tins.

Bake for 8-10 minutes. Remove from oven and remove candies from freezer. Immediately press peanut butter cups into each cookie, and place pan in the refrigerator for about 20 minutes (this will allow the cookies to cool without the candies melting).

Once cooled carefully remove cookies from pan and place on cooling rack. Store in an airtight container.
3. No Bake Cookie Peanut Butter Cup Cheesecake
Prep Time: 15 minutes
Additional Time: 2 hours
Total Time: 2 hours 15 minutes
Ingredients:
8oz Cream Cheese
1 Cup Smooth Peanut Butter
1 Cup Golden Brown Sugar, Packed
10 Crème Filled Chocolate Cookies
10 Peanut Butter Cups
1 ½ Cups Cool Whip
1 Crème Filled Chocolate Cookie Pie Crust
Instructions:
In a large mixing bowl cream together the cream cheese, peanut butter, and brown sugar with an electric mixer until smooth.
Place the cookies into a Ziploc bag. Place the peanut butter cups into a separate Ziploc bag.
Use a heavy-bottomed pot or a rolling pin to break the cookies and peanut butter cups into pieces.
Pour half of the crumbled cookies and half of the crushed peanut butter cups into the bowl with the cream cheese mixture along with 1/2 a cup of the Cool Whip. Use a rubber spatula to mix it all together.
Pour the mixture into the pie crust and spread it out evenly.
Spread the remaining cup of Cool Whip over the cream cheese mixture.
Top the pie with the rest of the crushed cookies and peanut butter cups.
Refrigerate for at least two hours before slicing and serving.
Enjoy!
Find Emerald Sky Edibles Near You
Emerald Sky Edibles incorporate all-natural ingredients in their cannabis-infused edibles, and East of Eden is proud to carry their products in our cannabis stores throughout California.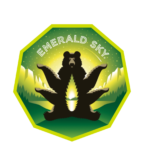 About Emerald Sky Edibles
This is a sponsored post by Emerald Sky Edibles. All opinions expressed in this post are based on my personal view.

Emerald Sky is well-known for its delicious, all-natural cannabis-infused edibles. We don't allow artificial colors or flavors in any of our products, and each and every one is 100% pesticide free. We are located in 400 dispensaries throughout California.
Our candy-making experience dates back to 1989. We started our cannabis-infused brand in 2018 and have five exceptionally unique product lines that cover nearly every category of confections sold in America today. Epitomizing a lip-smacking adventure in every single bite, Emerald Sky is truly unique.